How to Spend 4 Hours in Bursa
Kevin
Yesterday my family and I spent about four hours in Bursa. We decided to stop there to have a look around while driving from Istanbul to Izmir. We're glad we did because it's a fascinating place to visit. Bursa is about 155 kilometers (or 96 miles) from the center of Istanbul by car. That's about a two-hour drive, but it really depends on how long it takes you to escape Istanbul traffic.
Bakırcılar Kapalı Çarşı
Once we arrived in Bursa and parked, we walked directly to Bakırcılar Kapalı Çarşı (Coppersmiths Closed Market). If you've been to the Grand Bazaar in Istanbul, Bakırcılar Kapalı Çarşı is similar but smaller, less crowded, and less hectic (or maybe it just seemed so this particular Sunday).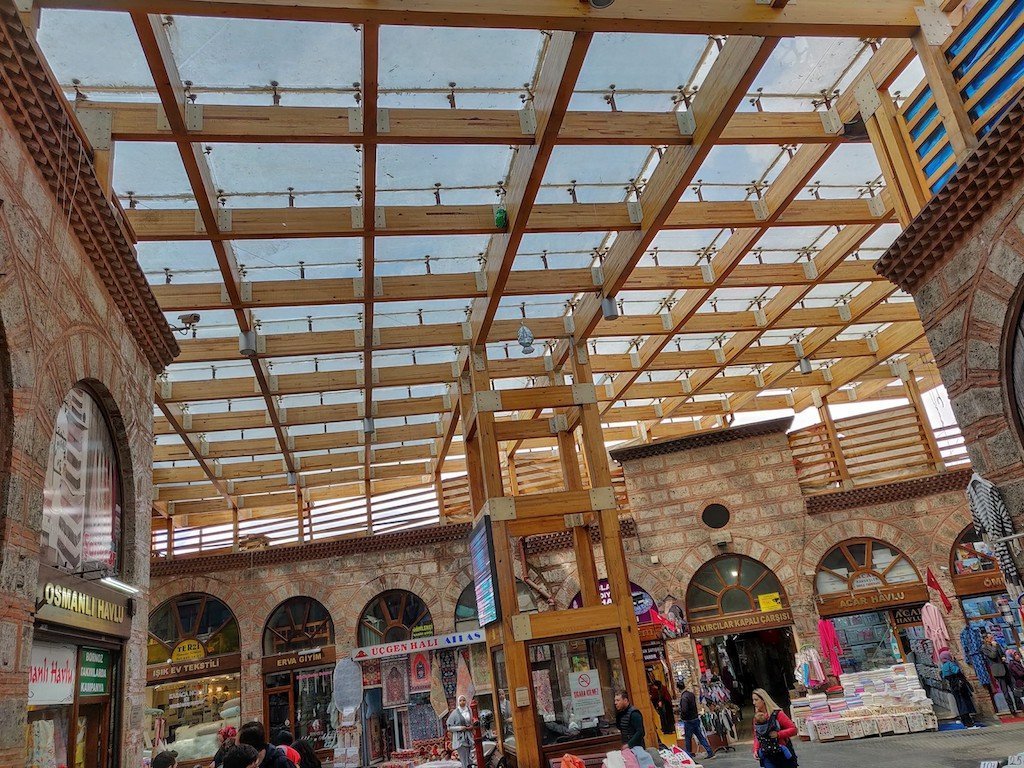 An intrepid shopper could spend hours – maybe a whole day – at this market and find any item she might want or need. Towels. Silk. Roasted nuts and dried apricots and figs. Many varieties of beautifully colorful olives. And gold! A stunning amount of gold jewelry!
Ulu Cami
Our next stop was Ulu Cami (Great Mosque). You may want to read the Wikipedia article on the Grand Mosque of Bursa. It provides a brief explanation of the historical significance of Ulu Cami. Importantly, notice that the şadırvan (fountain) is located inside the mosque. This is an unusual architectural feature because such fountains are usually placed outside near the entrance of most mosques.
Hidden Treasures
After visiting Ulu Cami, we strolled onward to Yeşil Cami – more on that further down the page. During our approximately 1.5 kilometers (0.9 miles) walk, we discovered a few other lovely places. Make sure you stop by Mehmet Helvacı. This small shop is decorated with an odd assortment of old artifacts like antique rifles and a coal-heated iron. Of course, the helva is delicious.
Yeşil Cami and Yeşil Türbe
Yeşil Cami (Green Mosque) is actually part of a complex which includes the mosque and Yeşil Türbe (Green Mausoleum or Green Tomb). Both of these buildings are so named for the blue-green tile work adorning their interiors. You can find more detailed information about Yeşil Cami at Archnet.
İskender Kebap and Dessert
That was a fair amount of walking. Time to eat! When in Bursa, you really should have İskender kebap. And, you should have it at Kebapçı İskender, still run by the descendants of the man who invented the dish. The only question they ask is "bir mi, bir buçuk porsiyon mu?" "Do you want one portion or one and a half?". I'd also recommend having the Kemalpaşa tatlısı for dessert (if you happen to visit around September or October, when the chestnuts are harvested, you should order kestane şekeri – candied chestnuts). Our last stop before leaving Bursa to continue our drive to Izmir was Kafkas Kestane Şekeri, a famous pastane (patisserie), to buy a few treats for the road.
Görüşürüz Bursa (See you, Bursa)
Even though we only spent four hours or so in Bursa, I'm glad we decided to visit. It has great historical sites including Bakırcılar Kapalı Çarşı, Ulu Cami, Yeşil Cami, and Yeşil Türbe. But, Bursa also has many hidden treasures like Mehmet Helvacı, Kebapçı İskender, and Kafkas. If you have the time, I think you could easily spend a whole day – or two – and still have plenty of things to see (or taste) in Bursa.